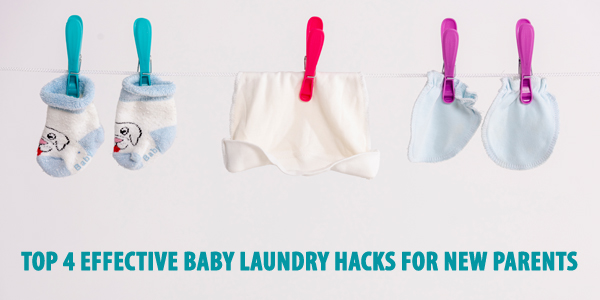 Tired of being surrounded by unwashed baby clothes? Feel like how much ever you wash and clean it isn't enough? Here are some laundry tips which will help you manage your baby's clothes better!
-New clothes? A must wash before they're worn. They would have been tried on by others or if shipped, they would have been sprayed with formaldehyde to keep them from wrinkling. Just a basic soak in lukewarm water and very little detergent should do the trick.
** a little pro-tip:1) Avoid fabric softener, it reduces the effectiveness of the flame-retardancy of the baby's clothes; thus making it irritating for sensitive baby skin. 2) Wash any fabric which is contact with the baby-, bed sheets, towels, napkins, kerchiefs**
-Stains! The nightmare of every mommy. From purees to syrups to oils, your baby's clothes or sheets are going to have a lot of them. For starters, immediately rinse the stained piece of cloth in cold water.  A baby stain remover will help.
Another way out-soak the cloth in half a bucket of water and 2-3 drops of liquid detergent. Soak for 30 minutes.  Then fill in some warm water and wash.
-Diaper Clean-ups: Diaper explosions of poop on clothes are not happy news,  but yet there are ways to deal with them. Stain removers are helpful. Take a half a bucket of cold water, add a few tablespoons of liquid detergent and ¼ or ½ colour safe bleach to the solution. 
Soak for 30 minutes and then wash with warm water, you can add more detergent. Repeat this as many times you need till the stain goes.
–Outgrown clothes: Many parents either donate these clothes or offer them to siblings as hand me downs. Some of them even hold on to them for the next baby. Now if you expect another addition to your family, proper storage is important. First, wash and then store. For fancy stuff like silk clothes etc wrap them in a cotton cloth and put them into your shelf. Cotton cloth preserves the clothes from rust or any other stains.