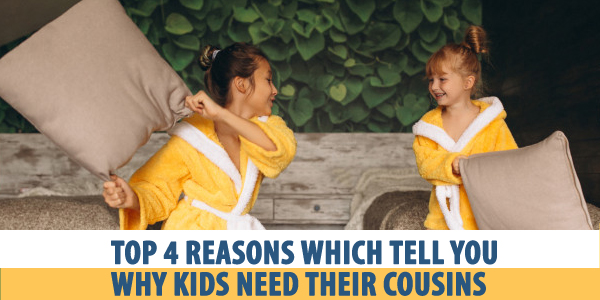 Why do kids need cousins? Simple-Friendship. Childhood, be it a tough or an easy going one, can be challenging & fun its own way.  Children and parents is a relationship of love no doubt but very often it has its limitations. There's always a hierarchy which doesn't give the children space to ask deeper questions or open their heart out about what's troubling them; this is when siblings or cousins come into the picture. Especially for a single child, cousins are very important while growing up.
Strong sense of kinship-

Cousins grow up in similar family dynamics and hence have a lot in common. Similar parenting, house rules, sibling rivalry and much more. They become each other's pillars during their trials & tribulations.

Learning from each other.

Be it a game or a life skill like crafts etc children love sharing knowledge. Especially if there's a good age gap like 2-3 years both will be eager to teach & learn from each other. The younger one will naturally aspire to be like the older cousin and the older one will like to be in control-this dynamics is fine as long they get along with each other well. Slowly this will change and both will learn to respect themselves & each other.

A confidante:

Single children and introverts generally keep to themselves but always tend to find a confidante in their cousin. Single children crave for the company and are looking for someone they can be oneself with, without being judged. Same with introverts, who generally have not more than 1 or 2 friends, develop a strong personal relationship with cousins. They feel closer since they are family and at the same time share a great sense of camaraderie which they may not share with parents.

Children stay connected with the family:

Indian families have already made the big shift from joint to nuclear families and these nuclear families are slowly dissipating into isolated individual clusters thanks to technology's addictive personality & the opportunities offered handsomely by globalization. If children visit their cousins during holidays & celebrate festivals together, they'll build a strong bond, which will help the family to stay closely knit.