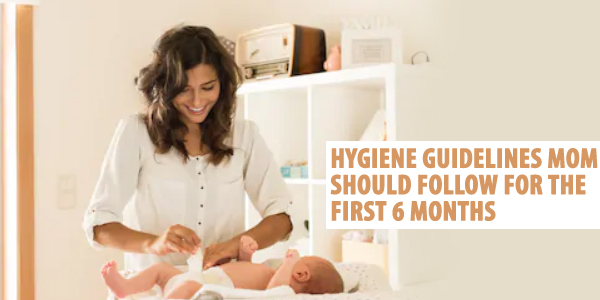 When there's a newborn in the house, there's got to be some rules. Hygiene is very important as the baby is very vulnerable to infections  & viruses, so the home and the people living at home must adhere to some basic cleanliness rules and should follow them even more strictly than they otherwise would.
Since mommy is the one who spends the most time with the baby at least for the first 6 months, here are some hygiene tips for the mother to make sure she and the baby are healthy & safe.
Wash hands before handling the baby: Even for a minute is something else is touched, she must wash her hands before getting back to the baby. Touch is the easiest way for bacteria or virus to spread. A lot of hand washing & baby product companies have been advocating this habit through awareness campaigns, for eg, Lifebuoy.

These are the times when hands should be ideally washed before handling the baby:
-During the baby's first week while the umbilical cord is still attached
-If you have a cough/cold
-After returning from outside
-After cleaning or touching your baby's body waste/diapers
-After using the bathroom.

Nappy rashes will be unheard of if they're frequently changed. Products have come up with napkins that can soak more and can be left on the baby for a very long time. Yet, experts often suggest frequent changing of diapers. This prevents urinary infections and rashes and keeps the baby comfortable & happy.

Dog lovers, listen up! It's true that pets especially dogs are the happiest to welcome their little baby brothers or sisters but parents mustn't forget that they are indeed animals and can easily spread infections to the newborn. one must make sure they don't lick or breath on the baby's face. Parents must wait for 6 months and post that they can go ahead and get them closer.

Sanitise all feeding equipment: Sanitise the breast pump after every use. Also one must keep all the baby eating, drinking & feeding equipment away from the rest of the cutlery. Before handling the breast pump or bib make sure you wash your hands.

Friends and family will be excited and eager to meet the little one, but one must make sure they do in batches. The little one must not be exposed to large groups of people at the same time. One never knows what people may be carrying with regard to infections, so one might want to be safe.

The mother, being the first and closest point of contact with the baby, should be careful about hygiene and so should the entire family. Everyone should be responsible and do their best to keep themselves & the house clean & safe for the baby.