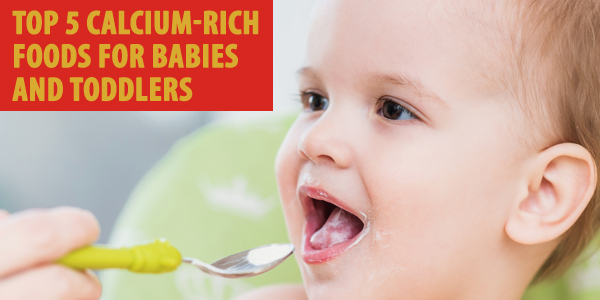 Maintaining a good amount of calcium in your child is something every parent should start to work towards, very early on. Since cow's milk or any other milk must be avoided for babies, until they reach the age of 1, ensuring healthy calcium content might seem tricky, but if you follow a calcium rich diet it might not be!
You can begin with the byproducts of milk. Yoghurt, low-salt cheese can be started gradually by 8-9 months of age. Paneer and cheese must be fed in the right amounts, they're rich in saturated fats and sodium so copious amounts are not advised. 1-2 paneer cubes at a time and toddlers can also enjoy small gratings of cheese toppings on foods. Avoid processed cheese, look for hard natural hard cheese containing low salt.

Soy is rich in calcium sulphate and can be given to toddlers in the form of fortified soymilk. Tofu too contains 200 mg/100 gms

 

of calcium. You can saute it with vegetables or can just serve in the form of nuggets as a sidecdish with rice.

Ragi-The king of all millet, contains 344 mg/100 gms. It's digestion-friendly, super nutritious and gluten-free. They're best enjoyed by kids, in the form of porridge and dosas. You can also try ragi pancakes and idlis.

Broccoli and dark green vegetables: It's a great time to introduce your baby to greens.  Dark greens like kale, collard greens, spinach leaves, turnip leaves, amaranth leaves, and watercress are all great sources of calcium. Mix it up and try different combos to keep your little one intrigued.

Beans and lentils: If your child is averse to veggies, lentils can be a great change. Plus, they're calcium rich! White beans, baked beans, kidney beans (rajma), chickpeas, and lentils like black gram dal (urad dal), pigeon peas (tuvar dal), bengal gram (chana dal) make for great vegetable alternatives, they're filling and rich in protein too.