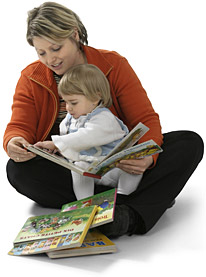 Don't you just love the moments when you can curl with a book and read to your child? But, you may wonder what good might reading do for your baby who is barely 3 years old.
Here is the fascinating thing. Reading to your baby from such a young age will actually help him/her develop listening skills. They might not understand what you are saying but the sound of your voice can be quite stimulating for their growth. And as they grow, reading will become an inherent part of their lives.
What's more…it is also a great moment of 'bonding'! Create warm fuzzy memories of a great book that will make you and your family laugh, cry, gasp, wonder – something that you and your child will reminisce years down the lane.
Here are some great choices of books for your 0-3 year old baby:
1) Goodnight Moon by Margaret Wise Brown
A beautiful children's story with dreamy illustrations, this book is perfect when you are trying to put your little one to sleep. Read out in your most soothing voice and wish everyone – the room, the moon, the clock, the socks, the chairs etc. – a goodnight!This classic modern children's literature has been a best-seller for years and has been putting babies to sleep for generations!
2) The Very Hungry Caterpillar by Eric Carle
Distinctive illustrations and a sweet storyline have made this book "one of the greatest childhood classics of all time." It follows the story of a caterpillar that eats everything on its way and finally grows into a beautiful butterfly! This beautiful picture book is a must for your baby's early collection.
3) Pat the Bunny by Dorothy Kunhardt
This book was way ahead of its time. Not only did it tell a story and entertain children, it also had 'touch and feel' elements to it – it was unique then, it is unique now! This interactive book will have your children quite excited and fascinated. On one page they can pat the fake fur of the rabbit and on the next the 'scratchy face' of their dad. No wonder 'Pat the Bunny' became one of the fastest selling books ever!
4) Corduroy by Don Freeman
Every child wants his/her toys to come to life and take them on a fun adventure! Well, here is a story of a very lovable teddy bear that comes to life and explores the wonders of the department store. With a happy ending, this exciting journey of a teddy bear is definitely going to win your child's heart!
5) Freight Train by Donald Crews
With larger and easy-to read texts, this book is a great way of introducing words to your children. Beautiful and bold illustrations make it even more exciting for toddlers. The Freight Train is a great book to read to your child (especially if they love trains). You can make train noises while reading it to them and have a whole lot of fun! Choo Choo..!