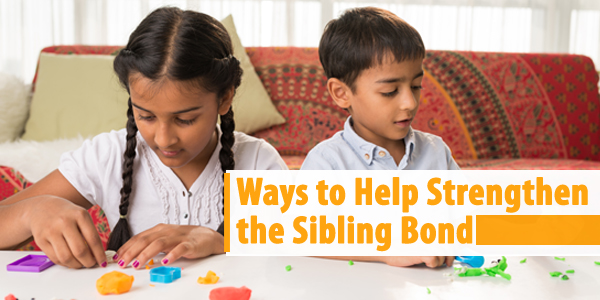 Over the past three months your whole family has spent more time together than you'll have for the past three years put together right?  Well, use this period to spend quality time with your family before the mad rush starts again. This is the best time to develop family bonds be it between parent and child or between siblings. 
Sibling rivalry is a term we see used often, however, the rivalry is an integral part of the growing up years where all the fighting, playing together, screaming and also laughing together helps in building a lifelong bond between siblings. During this extended period, your kids are at home together and are each other's only playmate, friend, foe and confidant, therefore there is no time like now to work on developing these sibling bonds. Let us look at how you can go about unobtrusively helping to strengthen and promote a healthy sibling relationship.
Finding the Middle Ground in Common Interests
Depending on the age gap between your kids their interests could either be similar or poles apart. Even if your kids' general interests are poles apart you will be able to find a common ground where their interests can peacefully co-exist, for example: 
Television Shows

– In today's age where kids tend to spend all their free time constantly glued to their phones, this is the perfect opportunity to get them to sit together and watch a television show or movie. Watching programs together works as a great way to strengthen the sibling bond, so pick a show or movie which you know will resonate with both your kids. As time goes by your kids will start having common likes and dislikes regarding shows and the characters in them, discussing them, watching repeats, collecting memorabilia, etc will all work as a bonding factor even when they grow older. 
Arts and Craft

– You can organise a craft project where both your kids get to use their respective artistic talents. Collaborating on something together will help develop the bond between them. There may initially be a few fights but with the passage of time they will start working together as a team.
Board Games

– An excellent way to keep your kids entertained at home while getting them to play together. Depending on their age groups you can choose suitable board games. Sitting together, interacting with each other (including the little squabbles and the laughter) helps in strengthening the bond between them. 
Working Together as a Team
Getting your kids working on arts and craft activities together will ensure that they start enjoying the process of working together as a team to achieve a common goal. Here are a few more ways to get them to team up: 
Let them help you when you are tending to the garden, assign each of them a simple task which they will have to carry out every day without fail

Kids love baking! However they may initially have reservations about it, so to give them the confidence to start you can get them to watch cooking shows like 'MasterChef Junior'. They can then start small by helping you decorate the cupcakes, add easy ingredients to the mixing bowl etc. Working together as a family not only strengthens the sibling bond but also the bond between you and your kids.  
Personal Space
To help strengthen the sibling bond there is an unlikely factor, namely spending some time apart. This is especially important when there is a bigger age gap between your kids, this will give your older kid an opportunity to pursue their own interests (like catching up with their friends online). Giving them a certain period of the day as their personal time ensures that they happily agree to spend time with their sibling.
In these ways, you can not only strengthen the sibling bond but also create fun memories they will cherish for a lifetime.