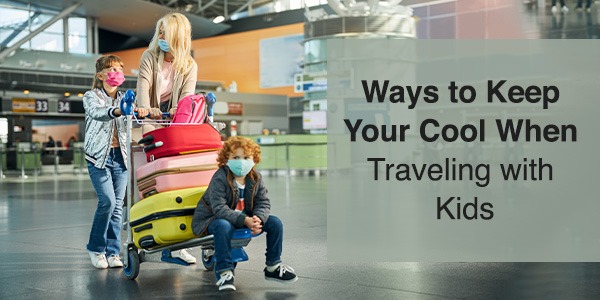 Who wouldn't love a trip with the family to detour from the mundane routine of busy work life? Traveling with children can be full of twists and turns if you forget to wear your thinking hats while planning and packing.
It's a matter of going a step ahead to expect the unexpected. Instead of traveling to a hill station without a nasal drop, have one in your handbag as a precaution. Remember that slowing down a bit is the mantra to enjoy every moment. Here are some ways to stay calm when traveling with kids while inventing your own ways too.
Snacks for Kids
Children can get surprisingly hungry when traveling. Thanks to the excitement and the spirit of a special day. Don't let them have long gaps between meals, which can cause gastric irritations. Keep feeding them healthy snacks like fresh fruits, nuts, and homemade food while on the move.
Reach the Airport or Railway Station Early
When traveling with children, you can expect last-minute changes. To cope with the unanticipated time loss, leave home a little early. It also takes your little one on a thrillophilia trip. Children may get some time to jump around and vent their energy out before boarding. The advantage is that they would be calm when traveling.
No Office Gadgets In the Luggage
Never carry your laptop or any pending office assignments when traveling. When you are on a trip to destress, the burden of work should be the last thing you think of. What would the whole point of #ChillingWithFamily mean?
Be Calm
Listen to your favorite music to keep cool. And keep telling yourself that this is the time to be YOU. Children may fall sick due to a stomach upset or climate change. Carry your child's medicines as a precaution rather than not letting your child have fun. Don't forget to save the pediatrician's number on your mobile phone. A quick solution is always a fingertip away. So, INHALE….EXHALE…..
Engage in Physical Activities
Join a game or any activity that your children enjoy. Be one among them and enjoy the wind beneath your feet. Allow all those tight nodes to loosen and give your loved ones the time they deserve. You'll feel good about it and never miss such priceless moments.