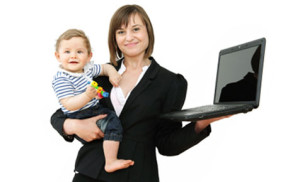 Perhaps the greatest challenge for a working mom is finding that elusive balance between work and home. Where exactly does work end and home life begin? Should you allow your family time to be compromised by last minute urgent work? Do you even have that choice?
In one of our earlier articles we had spoken about the predicament of an Indian working woman. She is a wife, a mother, a daughter and a sister, but the fact that she has a career too is just incidental. It shouldn't interfere with her domestic life. That's the general idea that her family has. Or sometimes even she could think the same. And this could make matters worse because she will frequently find herself in a situation where she doesn't like her job but has to do it in order to support her family.
Today we impart some pearls of wisdom to all you mothers out there who want to have a perfect work and home balance. You can't literally have it all. But baby steps will surely see you a long way through.
The first step is to acknowledge the fact that you will always be playing multiple roles. Acceptance is the key to a happy time taking all those responsibilities through.
There will be role models that you would want to follow. Women who have seemingly managed to master it all. But refrain from doing that. Your situation can never be compared to another.
It is in a woman's nature to look for guidance and acceptance from friends, family and society. Indian culture allows for family to be around for help. Accept help whenever needed. Invest in a day-care without any pangs of guilt tugging at your heart. You are doing your best, always remember that.
Spending at least an hour of gadget free time with your child everyday has shown to make the bond stronger. When you are home, be there physically, as well as mentally. It is easy to let your mind wander to unfinished business, but training yourself not to go down that road will help you in the long run.
And lastly, listen to your inner voice. Your natural maternal instincts will always help you make the right decision for your family.
Do things that make you happy, and do it with your family too. But keep some time aside just for you. Doing things that you loved doing before domesticity set in will make you relaxed and happy.